Tags:
Creator
Explorer
Viewer
In Harmoni, creating a graph is as simple as clicking on visualize in the menu bar.
Harmoni automatically offers the best graph type based on the data you are investigating. Graphs can be customized in a very similar way as when working with a table through the modify and select menus.
When creating visualizations, it can quickly get cluttered when the number of plotted items (down) or the metrics they are plotted against (across) is high. Harmoni offers display smarts that position as many labels as possible without causing overlaps that would become unreadable.
Screen resolutions, size of charts (in dashboards), and the number of data points are factored in as the smarts are applied.
Smart graph settings are aimed to reduce clutter, which may result in a default graph that doesn't include all cells from the table.
In this article
1. Interacting with your graph
a) Change graph type
You can change to a different chart type by selecting the chart you want from the options under the visualize menu.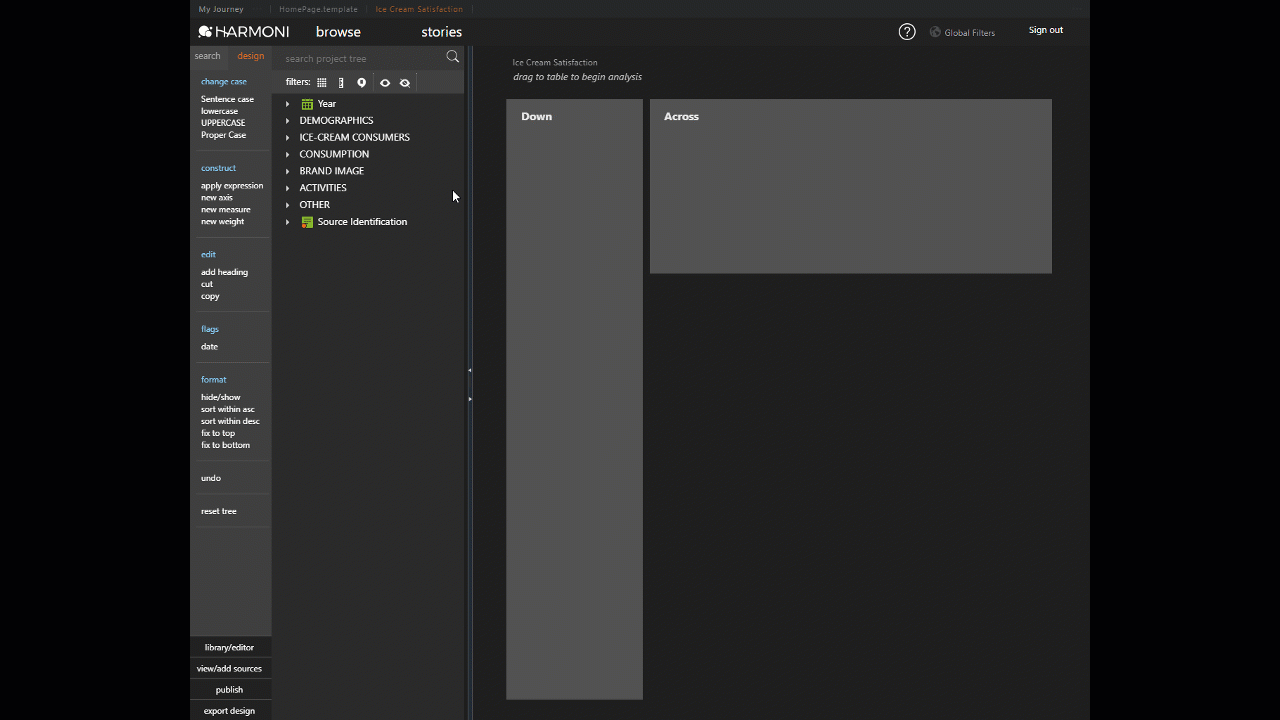 b) Adjust scales on a graph
You can choose to have your charts display automatic scales (let the system pick the best for the data presented) or to apply a logical maximum or minimum settings for the graph to adhere to.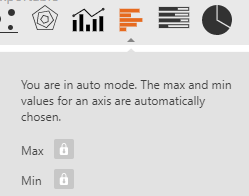 If the data changes and the scale is fixed, there is a chance that the new data could fall outside the range. Try to ensure this range is always practical to any possible data updates or use an automatic setting to cater for the variance.
Scales for each graph type can be explicitly set and saved with the view. To set the scale, click on the down arrow at the bottom of the graph type, then unlock the auto-scale and explicitly setting the maximum and/or minimum scale point.
When no Max or Min is set, the graph scale will be automatic.
When only one of these is set, for example, the Max=100% then the min will be automatically selected.
When both Max and Min are set, the chart scales will be fixed to this range.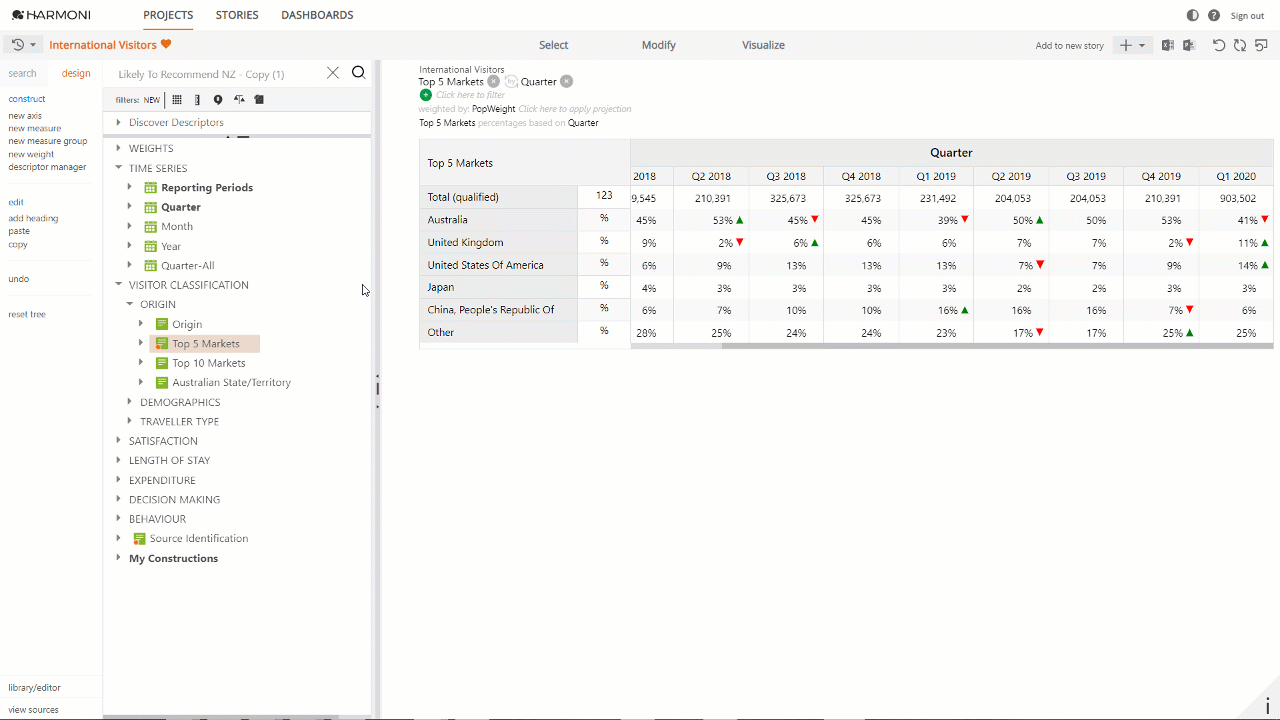 c) Chart only selected items from tables
Harmoni allows you to chart only the items you want to visualize. By selecting only the rows and/or columns you need from a table and clicking on visualize the resulting chart will only contain your selections.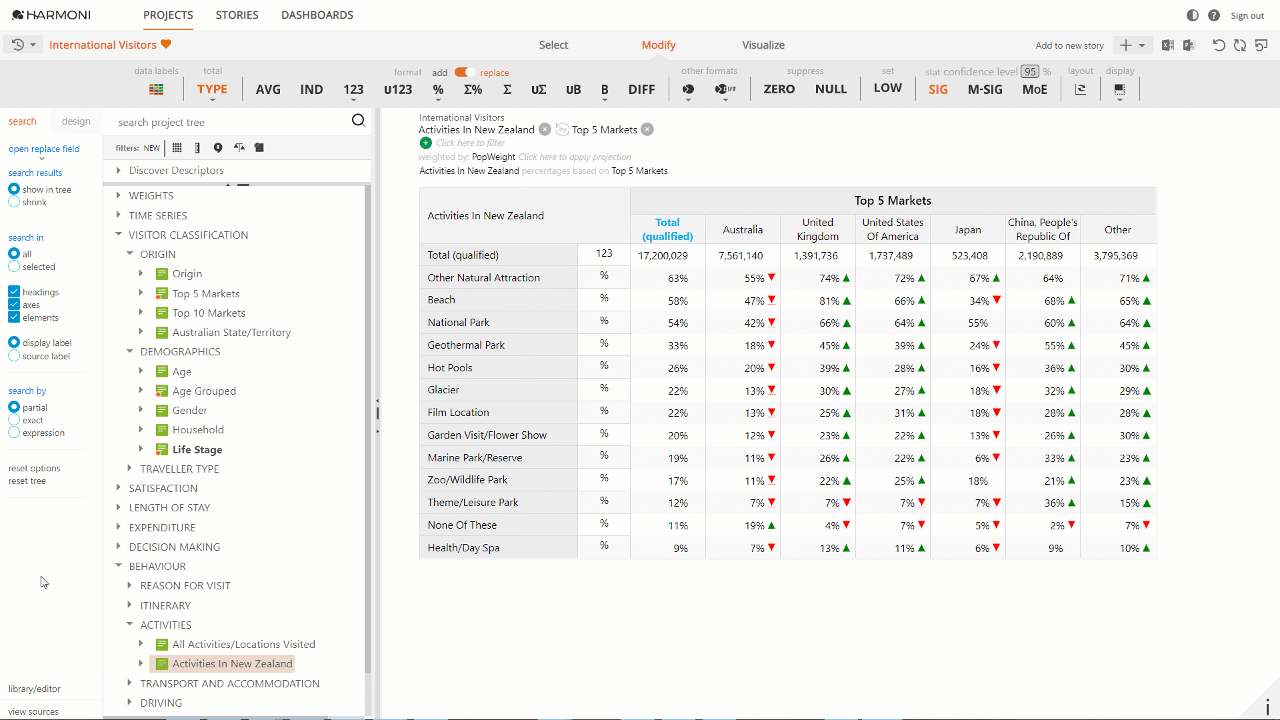 d) Display Totals
When you create a table in Harmoni, Totals will automatically be calculated and displayed. When you chose to visualize the data as a graph, the Total will be hidden from the view but still remains available for inclusion via the select menu.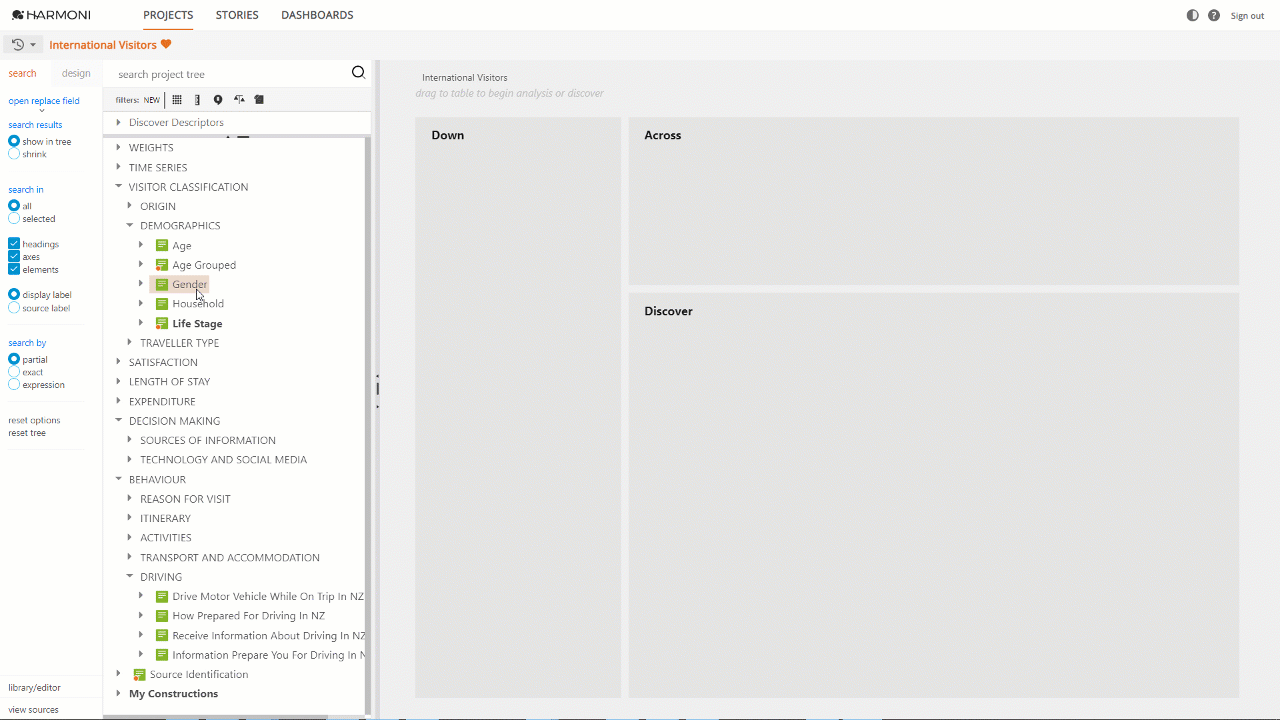 e) Show or hide values labels
To show or hide values from a chart, select Show/Hide all values from data labels in the

modify

menu.
To only display labels for items where there is a significant difference to the reference, select Show Only Sig Diff. from data labels in the

modify

menu.
You can also show to display value gaps, select show value gap from data labels in the

modify

menu.
Icon
Name
Description
Show/Hide All

Allows to show or hide values from a chart.

Show Only Sig Diff.

Allows to only show significant differences in a chart.

Show value gap
Allows to

show or hide value gaps or differences from a chart.

Optimise Label Placement

Optimize label placement avoiding overlaps that would make labels hard to read. This option is on by default as part of the smart graph setting.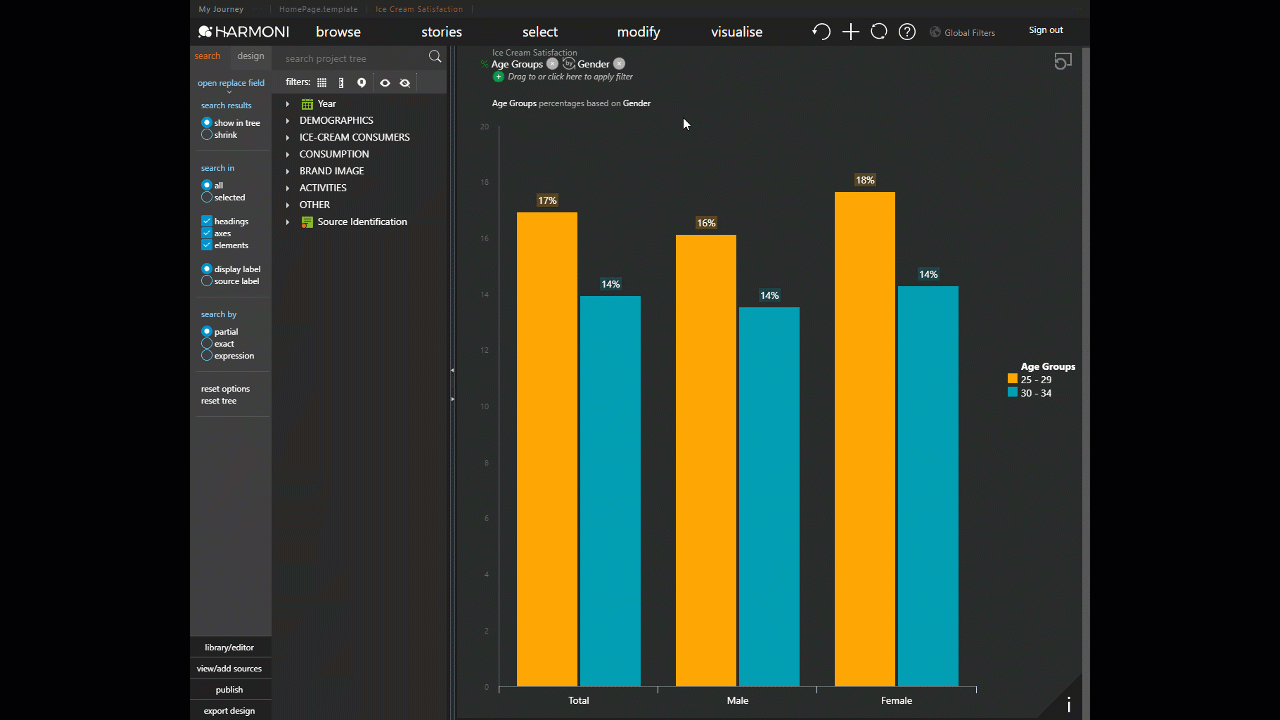 f) Show sample size
When creating an analysis and choosing to visualize you can display the sample size within the graph.
If your percentages are based on the down dimension, which is the default behavior, the sample size appears in the across legend labels. If you have changed the percentages to be based on the across dimension, the sample size will appear in the graph legend.
For standard axes, the sample size is the unweighted base (n=uB). For analysis where a measure is included, the sample size is the unweighted count of respondents included in the item (n=u123)
The show sample size option can be switched on or off through the modify menu.
The show sample size option is not available for space graphs, plot graphs, and single number displays.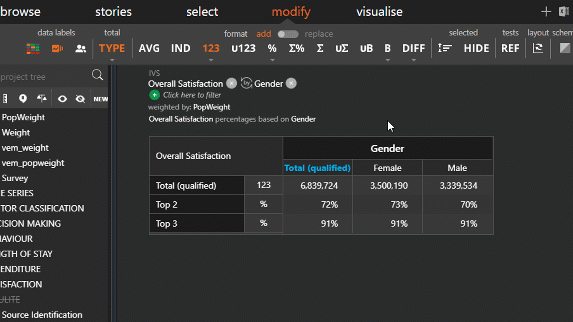 g) Set a Target
Harmoni allows you to set and display benchmarks in bar charts to easily see how results compare to a target.
TARGET is an additional visualization option that can be used with horizontal or bar charts. After selecting an element as a target, Harmoni creates an overarching box that straddles the entire group within the chart.
This option is ideal whenever you want to visualize the overall target or goal of a particular set of results using bar charts.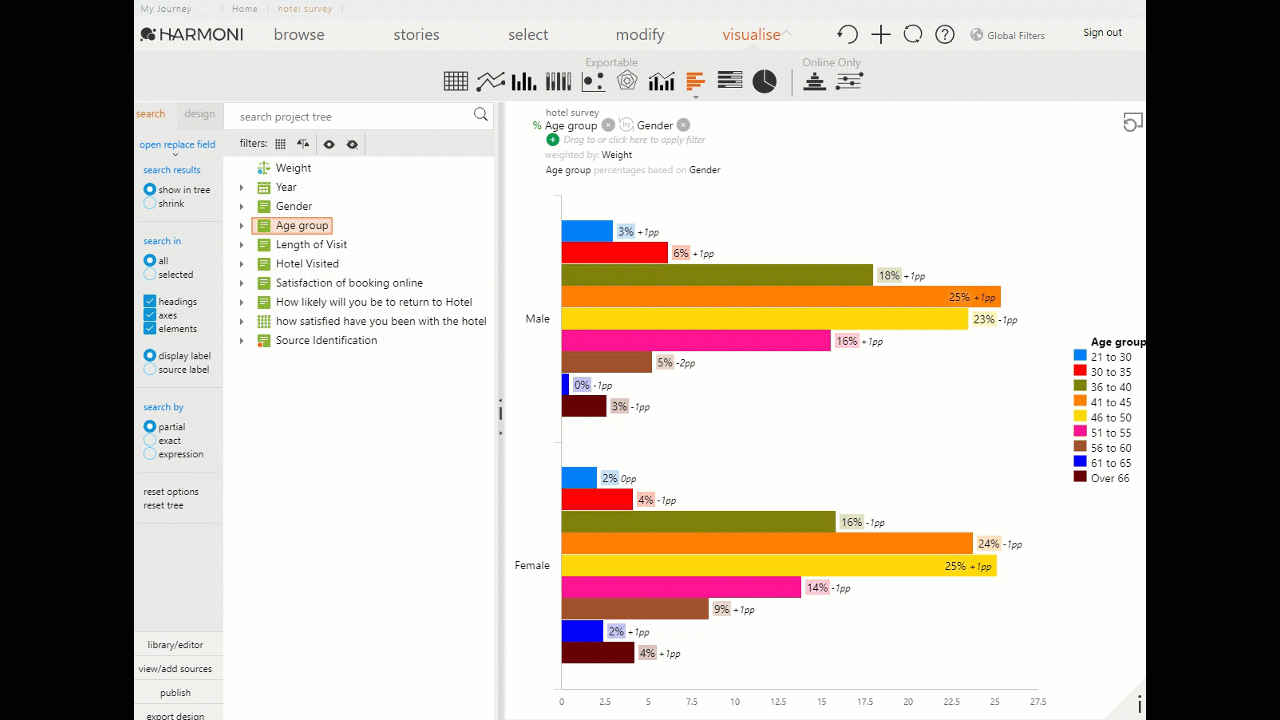 After creating a bar graph, select an the element you want to use as a target., then select TARGET from the modify menu. Notice how Harmoni then creates an overarching box using the selected item.
h) Optimize Label Placement
This option allows optimizing label placement to avoid overlaps that would make labels hard to read. This option is on by default as part of the smart graph setting.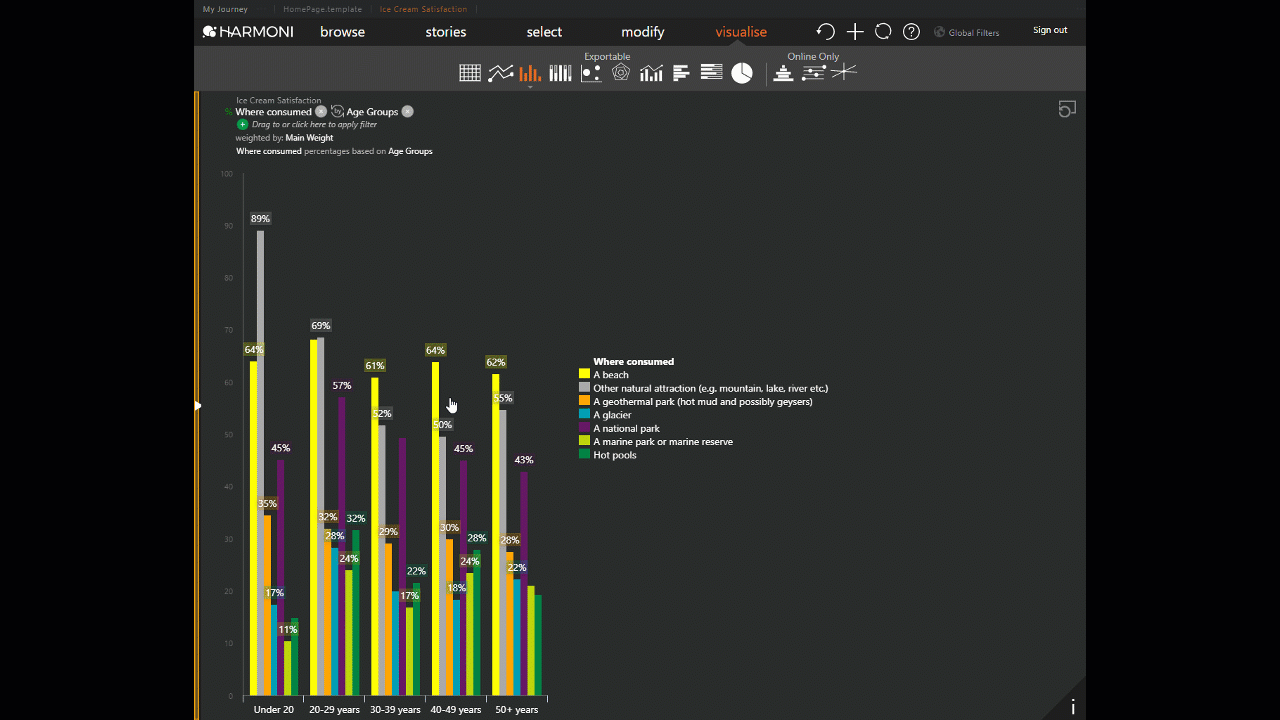 i) Show or hide items
To hide, select the item legend in the graph and then select hide from the modify menu. To bring the item back, you can undo or click on the axis/group heading that it came from (from the title above the table or chart) this will open the select menu that will allow for you to re-add it.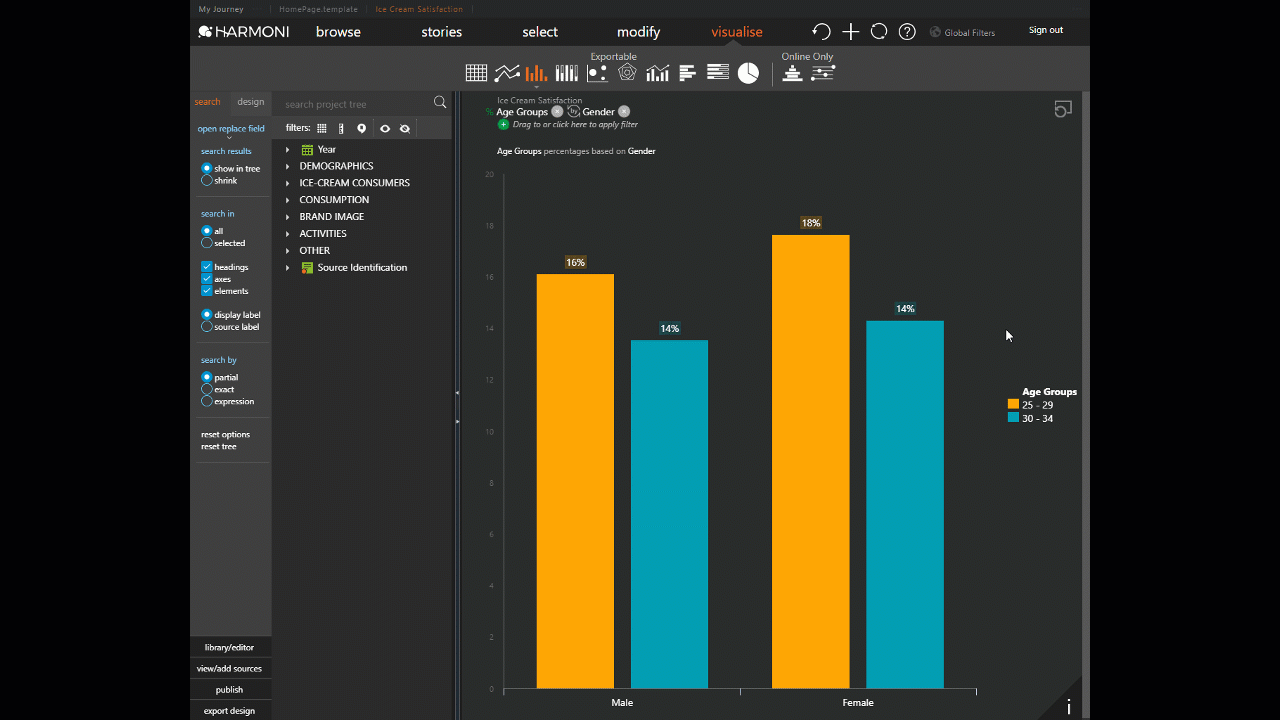 Items can be included/excluded from the analysis by using the select menu and relevant drop boxes.
The add/replace feature in the selectors allow the selector to toggle between being a single item selector (i.e. replace) and a multiple item selector (i.e. add)
Elements from a grid appear in the same selector as the grid's axes even if they are being graphed in a different dimension.
j) Chart refreshes
This feature allows you to change a filter on a chart and have the chart refresh with the latest result. An animated drawing change occurs, and a chart will organize around the new data view.
k) Export charts
The visualize menu is organized in a way that you can identify which charts are exportable (i.e. PowerPoint) and those that are designed for online use only (or table export).
Exportable charts include Table, Line Graph, Bar Graph, Stack Bar Graph, Plot Graph, Spider Graph, Multi Axes Graph, Horizontal Bar Graph, Horizontal Stack Bar Graph, Single Number Display, and Pie Graph.
Online Only charts include Pyramid Graph, Bead Graph, and Space Graph.

2. Switching between standard and discover analysis
After creating a discover analysis followed by a standard analysis you can switch between standard and discover analysis using the toggle under the visualize menu. When on Discover mode, you can find the special bubble chart. This chart is a visual representation of what differentiates the profile target from the group.

3. Graph types in Harmoni
Standard Analysis
Exportable
Online only

Pyramid Graph

Bead Graph

Space Graph
Discover Analysis
4. More information on Graph settings
Pyramid Graph
Conversion rates can be displayed.

Also known as width graph.

Smart graph settings:

Down elements limit:30

Across element limit:30
Single Number
Great for calling out a single value
The font can be formatted through the edit option in the modify menu
To help describe the number, text can be added as a prefix or suffix
Bead Graph
Great for

visualizing

lots of data on different scales.

Smart graph settings:

Down elements limit:30

Across element limit:30
Pie
Both one- dimension and two-dimension tables can be visualized in a pie, with the across dimension being assigned proportional real estate in an outer-ring to the pie.

A single dimension is viewed as a traditional pie chart
Two dimensions (an across and a down) allows showing the value of the intersection of any two elements.

You can also group multiple elements if their value as a percentage of the total sample falls below a certain threshold. This can provide users with a less congested view of their data without having to manipulate the original analysis.