Tags:
Creator
Explorer
Viewer
Stories and Dashboards often need to highlight or visualize a single number. Single number displays are an excellent way to call out a single value.
In Harmoni, two simple ways to visualize a single number are with text or with a gauge.
In this article
1. Single Numbers
Sometimes the best way to show something is also the simplest. A number is exact, easily understood, and can command attention all on its own.

The single number display option only appears when a specific cell in the table is selected.
In Harmoni, to create a single number display, you must first select the cell you wish to report and then choose Visualize.

Make a single number look good and stand out
You can find different formatting options under edit in the modify menu.
You can adjust the font style, size, and color.
Font size can be set using px or em, rem, or vw. If you intend to add a single number into a Dashboard, use px.
To help describe the number, text can be added as a prefix or suffix.


2. Gauges
A gauge is typically used to visualize metrics having a single value.

Harmoni allows you to select a full gauge or a half gauge to accompany your single number stories. You also can adjust the color, the background color, and the width of the gauge.

The scale's minimum and maximum values are determined automatically based on the gauge's underlying data.
For percentages, the scale defaults from 0 to 100.

For numbers, the charted value is always in the middle.
You can override this by manually setting the gauge scale's Minimum and Maximum properties, giving you a lot of flexibility on how to display your single numbers in your reports.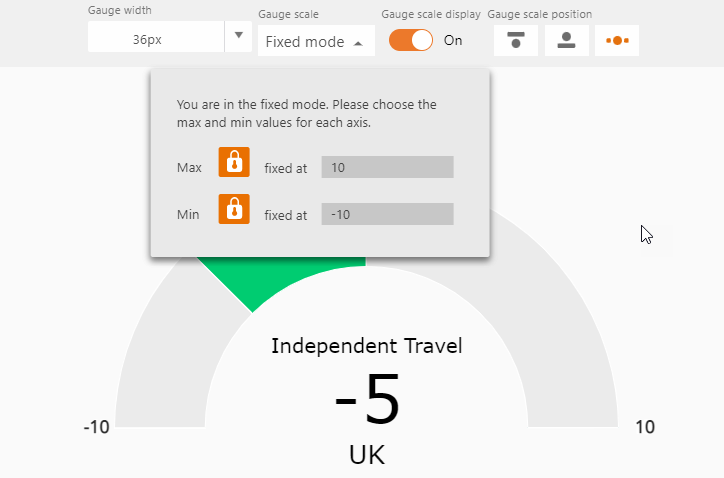 3. Lock Display
When using single numbers and gauges in dashboards, the lock display option allows holding the size dimensions of the containers. This ensures that when the screen size changes or the scaling of the browser is adjusted, the alignment and overall design aesthetics remain as intended.
Make sure you use px for the size of the font. Once you are happy with the size and position of the container, use Lock Display Size to enable appropriate scaling.

Where to from here?