Tags:
Creator
Explorer
Viewer
Learn more about how to navigate and find what you need in Harmoni.
In this article
The first step is to create or load a project. A Harmoni Project is a collection of data sources that can be harmonized, designed, analyzed, visualized, and shared with others. Learn more about Projects. Projects are created and accessed through browse. Once a project has loaded, Harmoni presents different application zones with context-sensitive menus.
Menus in Harmoni are context-sensitive.
1. Menu Bar
a) HARMONI,

browse

, and stories are used for navigation.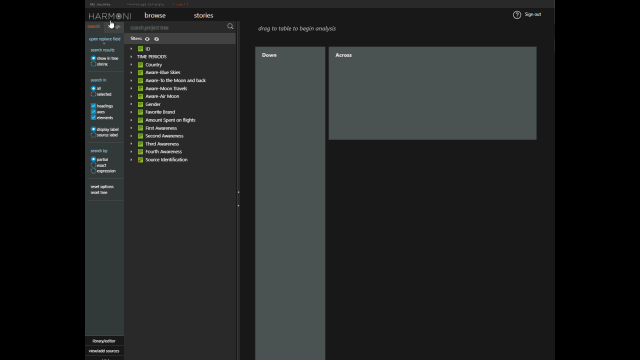 Navigate to the landing page by clicking on the HARMONI logo.
Navigate to My Projects, My Dashboards and My Alerts page by clicking on browse

.

Access your saved Stories by clicking on

stories

.
b)

select

,

modify

and visualise adjust analysis settings.
These menus become available as soon as you create an analysis.Learn more about Analysis.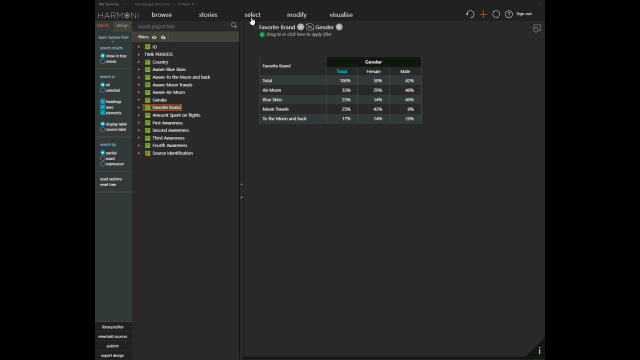 Interact with your selected variables for analysis by clicking on

select

.

Interact with your analysis table by clicking on

modify

.

Graph your analysis by clicking on

visualise

.

After creating an analysis, options such as undo and reset become available.
c)

Preview as owner.
To access the preview mode Learn more about Preview., click on the eye icon in the global navigation bar. This will allow users to see the project tree and data that the owner sees, including any unpublished updates such as new data.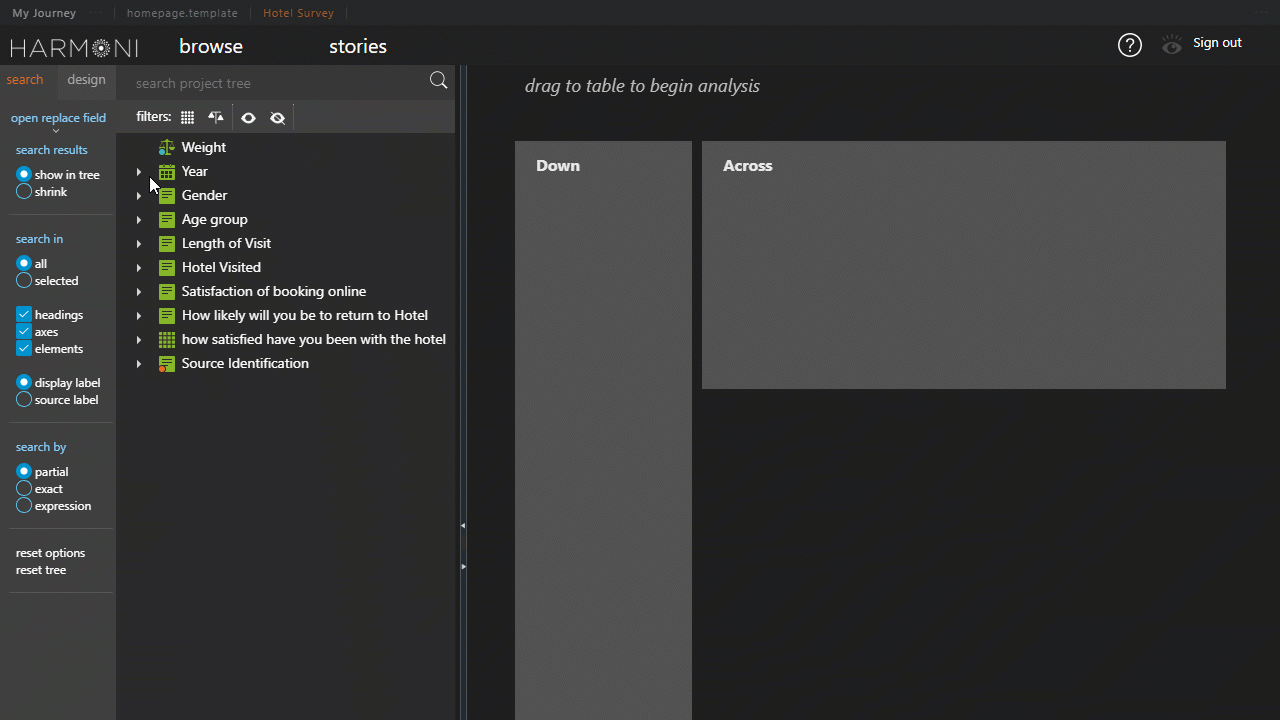 d)

Direct export to Excel and PowerPoint
You can directly export your analysis or dashboard to Excel or PowerPoint. This can be done by clicking on the respective icons on the top right corner. Please note this doesn't automatically save your view as a story. Learn more.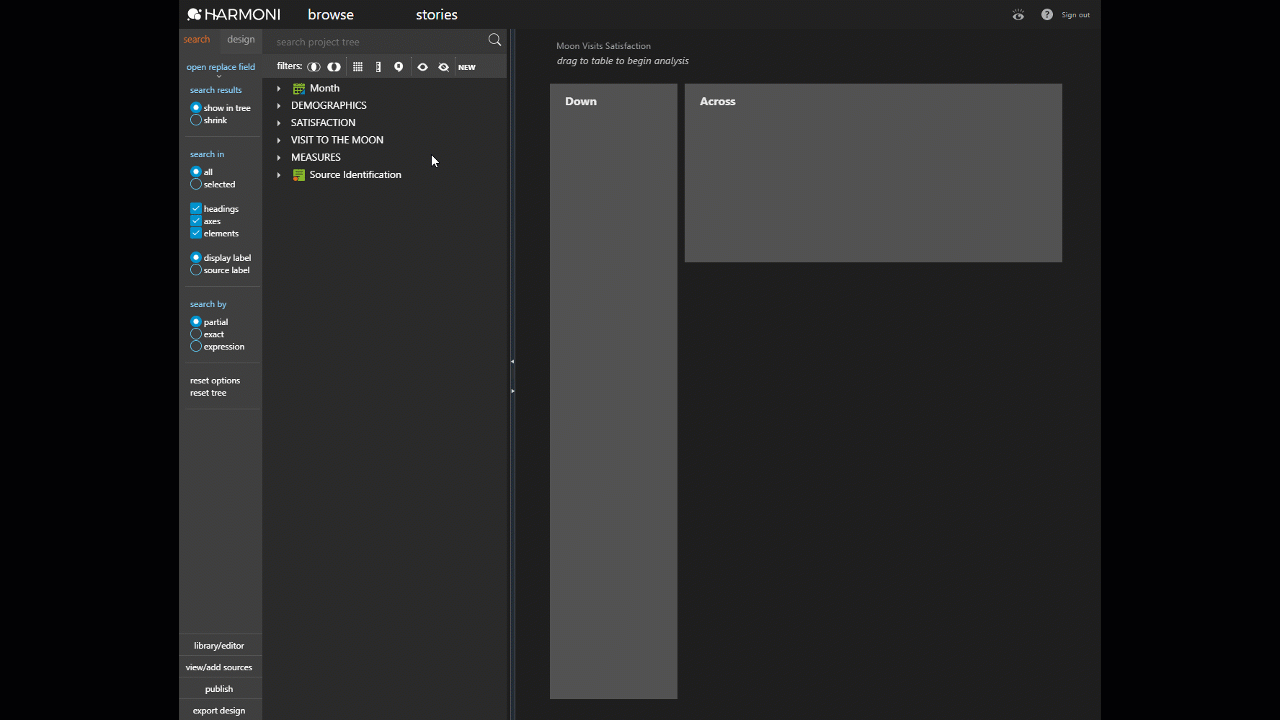 2. Project Pane
Displays the Project Tree. The dictionary for the loaded project. The project pane is not available to Viewer users.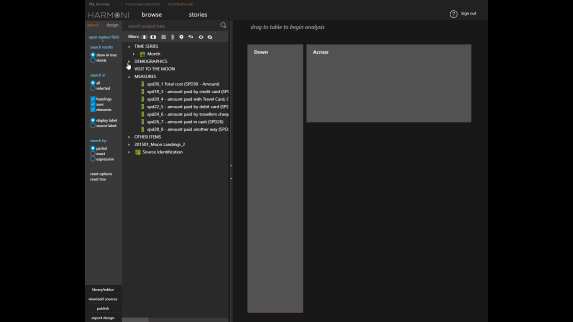 To filter, click on the relevant variable icon in the filter menu.
3. Search and Design Pane
Options available on this pane change depending on your selection.
search Learn more about search and replace. menu allows you to find items of interest in your project tree. Replace is also available in the search pane.
design Learn more about project design. menu allows you to format items in your Project Tree. You can also find options to create customized constructions.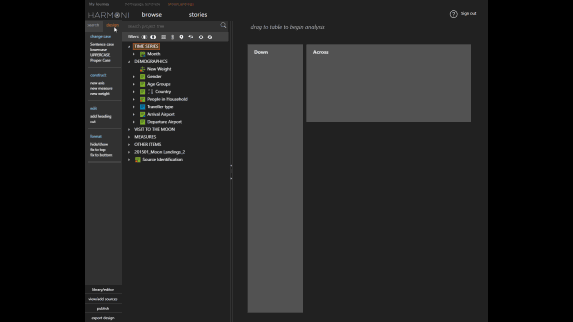 4. Analysis Zone
Displays analysis tables and graphs.
A selected item or multiple selected items from your project tree can be dragged to multipledrop zonesAnalysis drop zones include Down, Across, Filter, Measure, Percentage Base and Weight.

Learn more.

within your analysis pane.
Depending on your analysis, other analysis optionsAnalysis options include switch, unnest and stack.

Learn more.

will be available.
Clear analysis, located on the top right of the analysis pane, allows you to reset the analysis while retaining all of your project tree interaction. Options such as undo and reset become available too.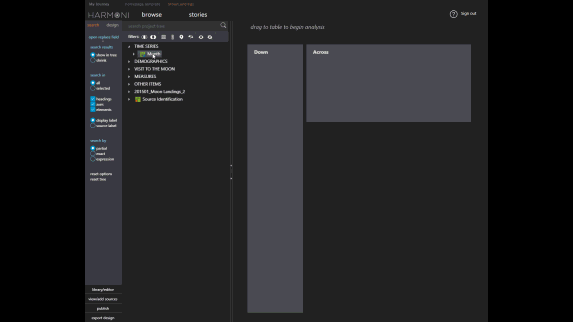 5. Action Pane
Navigate to other panels, including the library/editor, view/add sources, publish and export design.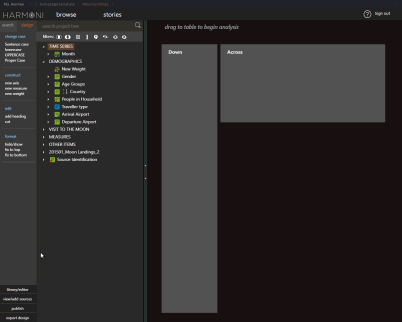 6. Help and Knowledge Base
Access to Knowledge Base and Support. Search and find relevant articles to answer any questions you may have while working with Harmoni. You also have an option to contact us.