Tags:
Creating visually appealing and relevant dashboards is an important way for a creator to engage with an audience to deliver insights. Customizable containers enable dashboard creators to edit and manage a selection of elements of a chart when added to a dashboard.
All containers can be used as buttons to link to other content. Custom link allows you to link to other dashboard pages, websites, and documents.
In this article
1. Navigation Paths
Think about how dashboard users can drill down and back to change the focus of their analysis by moving between levels of information.
Adding a link to Dashboard Page
Select the container you wish to use as a link button.
In the General settings menu go to Link.
In the Custom Link field enter the name of the dashboard page you wish to link to.
Save.
When linking to other dashboards, the page name must have PAGE capitalized to work, for example, "01_NPS.PAGE".
Pre-apply dashboard filters before loading
There are scenarios where having the ability to 'pre-apply' a filter, would create new ways to load a dashboard in a state that reflects a data pathway (e.g. from another dashboard) or to simply ensure that a brand or other focus area was already selected when the dashboard loads.
You can link an image or text container to a different dashboard and default to an available filter.
DashboardName.PAGE?filter=Axis.element
Custom link:
The dashboard name must include the suffix .PAGE capitalized.
Must include "

?

" before the filter
Example:
Dashboard Name: Moon Visitors_NPS
Filter axis and element: Top 5 markets.UK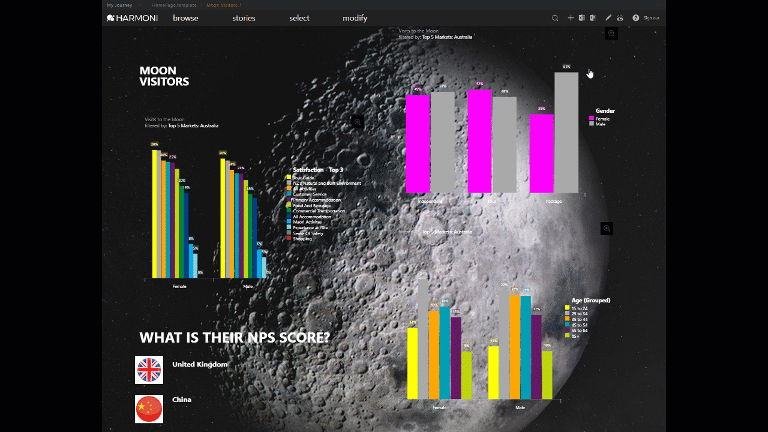 2. Link to documents
All containers can be used as buttons to link to documents and other external content. As opposed to embedded content Learn more., these documents will open in a new window.
Microsoft Office documents are downloaded for viewing with a local license.
Links to documents
Documents need to be uploaded through our hosting platform first. Please contact support@infotools.com for more information. Once content is available:
Select the container you wish to use to include your link.
In the General settings inside the Link section add the link into the Source field.

Save.
The source field needs to include the site address and the file address. For example:
3. Link to Harmoni project
While Creators and Explorers can always access projects shared with them via the browse menu, there are times where linking one of these users directly to the project becomes a valuable shortcut.
As an example, you might want to create a custom landing page for all your Explorers and on it have link boxes that take them directly to the relevant projects for analysis. Another scenario could be a dashboard that both Viewers and Explorers can access, however you could provide a direct link to the project that the dashboard is built from to allow explorers to deep dive into the data. Either way, the access will always be limited to either the platform defaults (eg. Viewers cannot access projects) or what has been shared with you, that is, even if an explorer clicks on the link to the project, they still need to be granted access via the Publish and Share mechanism for that particular project.
As an additional benefit, a project owner or project collaborator might simply publish to a new user (Explorer or Creator) then immediately provide them a direct link to it use the same suffix format.
Select the container you wish to use to include your link.
In the General settings inside the Link section under Project Name entry field, type the name of the project you wish to link to.

Save.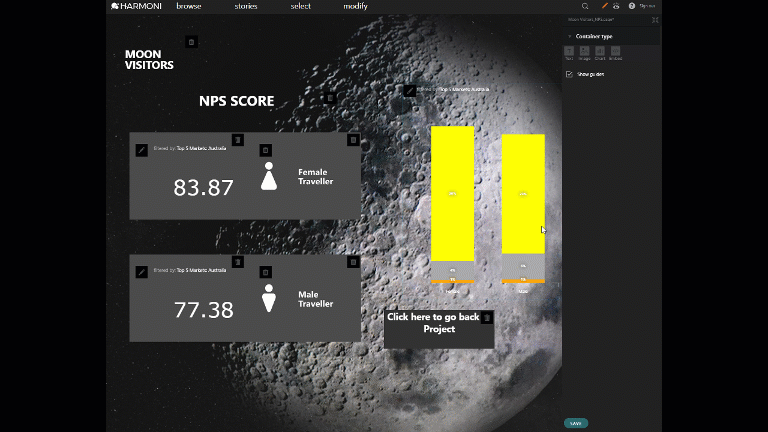 Share a link using the site URL
If sharing the link, simply use the URL of your site, with the appended suffix shown in bold:
https://connect.infotoolsonline.com/sites/mysite?Project=My_Project_name
Where to from here?