Tags:
Creator
Explorer
Viewer
Harmoni is a cloud-based platform hosted on Amazon Web Services (AWS).

Ensuring our platform remains secure is vital and protecting information is our highest priority.
In this article
1. Company and Sites
A company site is created for each client company. Each client's data and metadata is stored in an independent database. A user can have access to multiple sites across multiple companies.

It is within each site that projects,A Harmoni Project is a collection of data sources that can be harmonized, designed, analyzed, visualized, and shared with others. Learn more about Projects. storiesIn Harmoni, collections of analyses are called stories. Learn more about Stories. and dashboardsDashboards are a way for you to organize Harmoni stories and combine them with other contextual items. Learn more about Dashboards. reside.
To access Harmoni go to connect.infotoolsonline.com.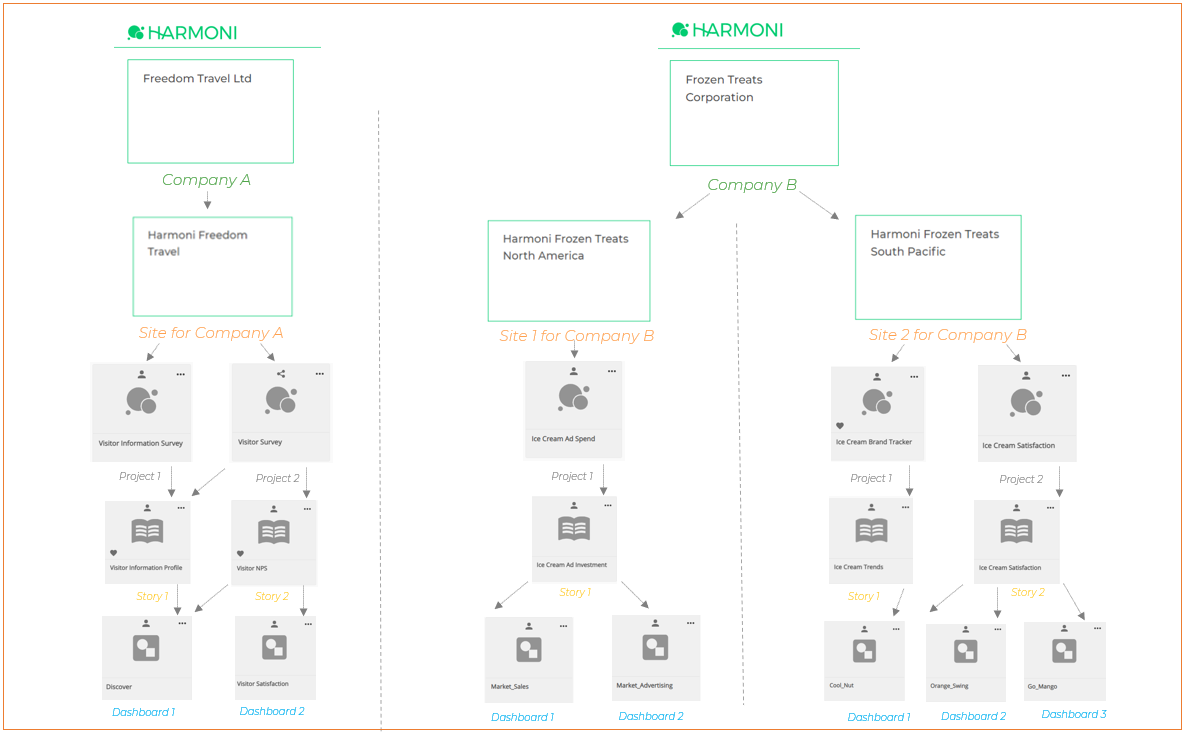 After logging in, you will see the sites you have been given access to.
Users with access to multiple companies and sites

Are presented first with company tiles. After selecting the relevant company tile and then site tile, you will be directed to the landing page.

Users with access to one company and site

Will go directly to the landing page of that site.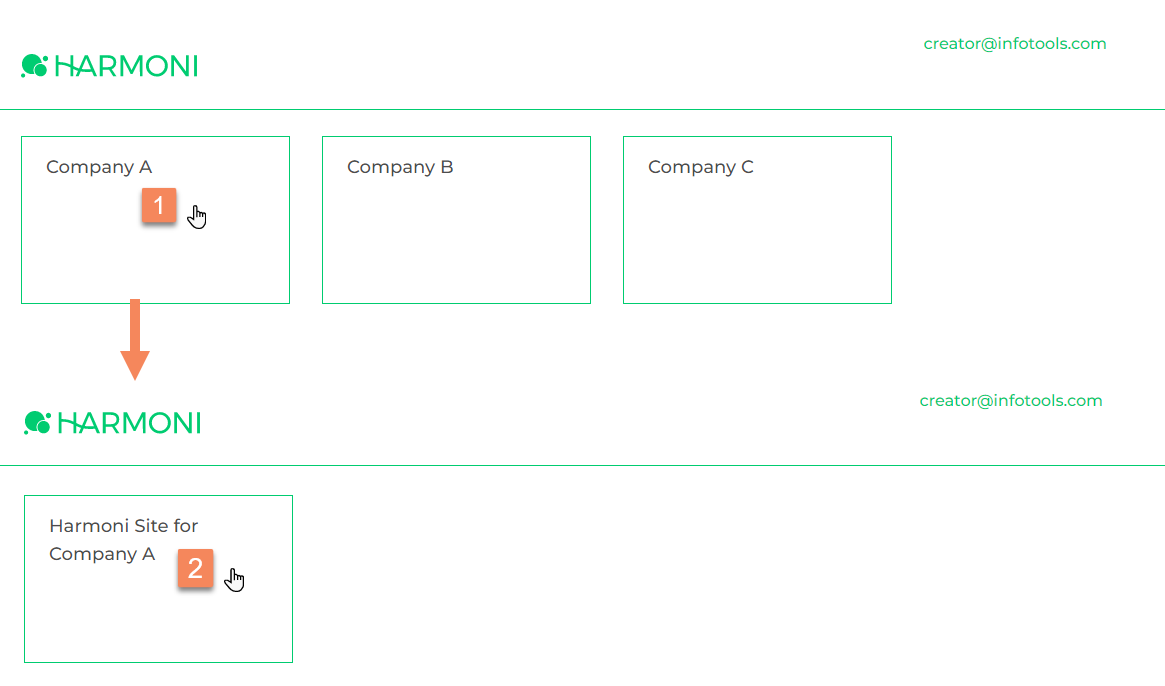 Click on the company tile
Click on the site tile
Need access to a new site
If you need a new site or access to another site, please contact support@infotools.com in the first instance.
a) New Client
If you are a new client, when requesting a new site please provide:
The client's company name.
Details of users that need access to the site.
Once a site is created you will receive a self-registration link. Once you receive the link, you can create your user credentials.
b) Access to an existing client site
If you are already registered but need access to another site, please provide your username and the name of the site you need access to.
2. Landing Page
A landing page is the homepage of your site. The landing page can be customized. The page may contain links to other content.
The Global Menu Bar provides actions and functions that have a "global" purpose. The menu bar is always accessible and in a fixed position. In this menu, you can find Harmoni's key entities: Projects, Stories, Dashboards, and Alerts. Entities are applicable to your user role (e.g., Creator, Explorer, Viewer) or site configuration. Learn more.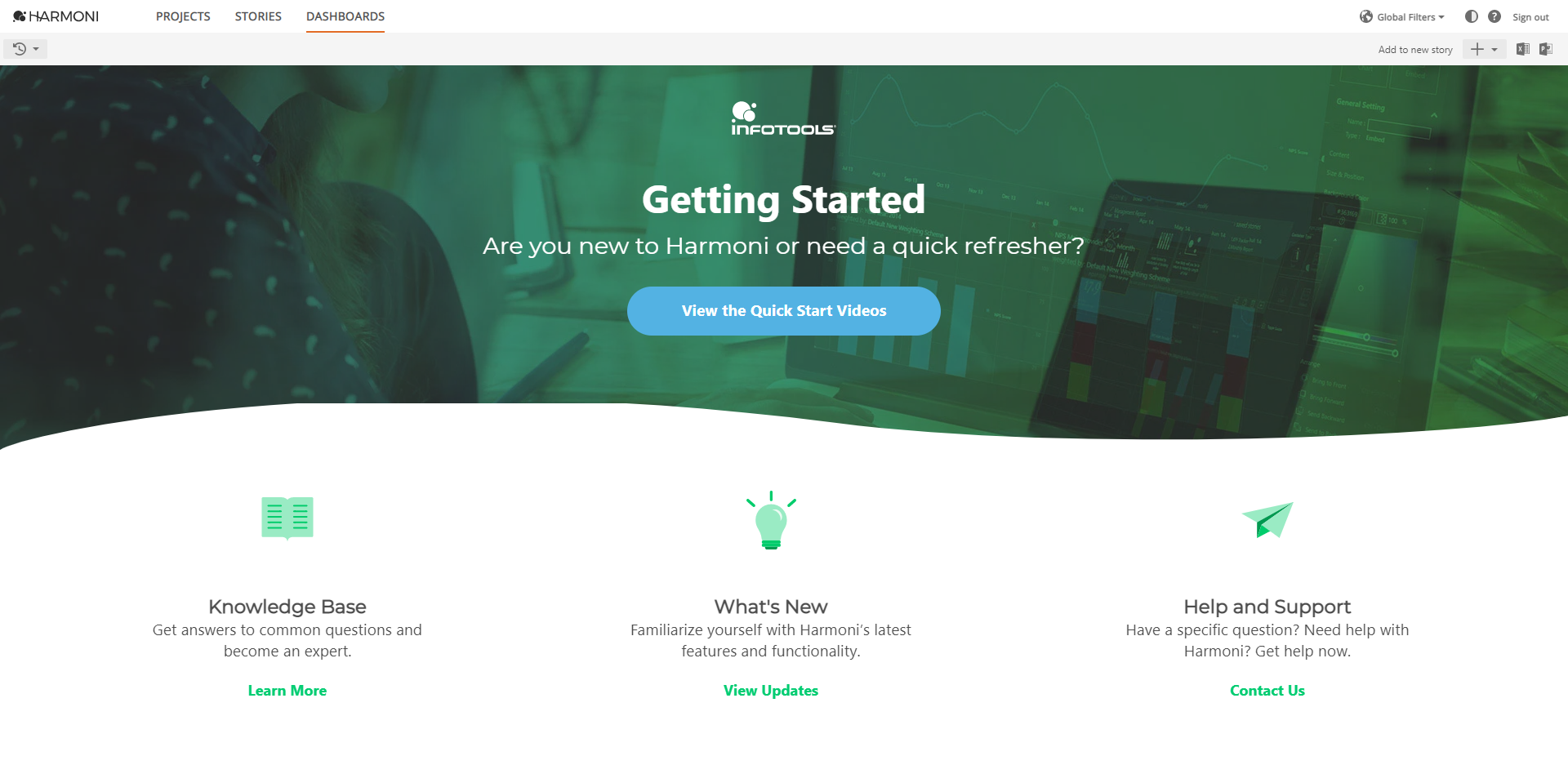 Where to from here?
Learn more about Harmoni Navigation