Tags:
Quick Start
Project Owner
Creator
Welcome to Harmoni!
Harmoni projects are the central area for data connection, harmonization, collaboration, and design.
In this article
1. Create your first project
Projects are created and accessed through PROJECTS in the Global Menu Bar. PROJECTS is only available for Creators and Explorers.
To create a new project, click on CREATE NEW button and name your project.

2. Add your data
A data sourceA source is a collection of data that is either in an imported file or in a connected data store. Learn more about Data Sources. is the core of all you do in Harmoni. To create a project in Harmoni, you need to connect or upload a data source. A Harmoni project can contain multiple sources.

Choose connect or upload.

Browse to the location of your data.

You can select the sources you'd like to include in your project by clicking on each source.

When you're ready, you can click the

OK

button. This creates and loads your new project.

You are now the Project Owner.
3. Design your Project
Design is the process of turning raw source data into a project styled for analysis. Common tasks are automated when you load data for the first time. From there, you can interact with the project tree and style per your analysis requirements. Learn more about Project Design.
When you first create a project, it automatically loads in edit mode (the pen icon is orange). But when you load the project again, you'll need to click the edit pen to switch on edit mode.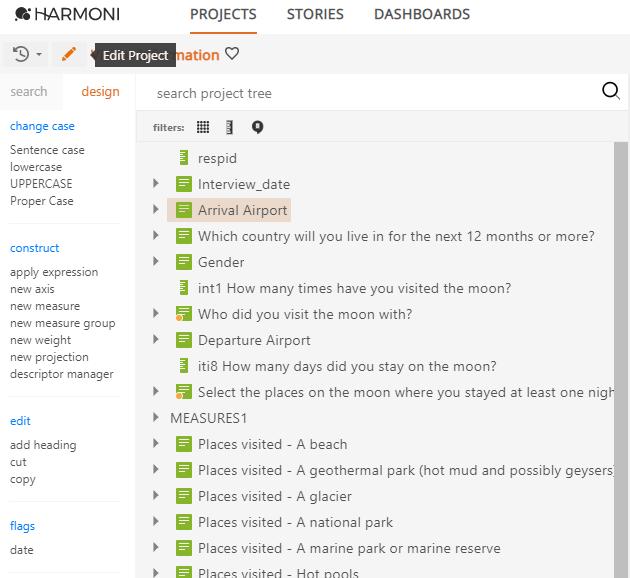 Where to from here?