Tags:
Quick Start
Creator
Explorer
Viewer
In Harmoni, collections of analyses are called stories. Stories are accessed through STORIES in the Global Menu Bar.
After you create an analysis, you can save and share your insights. Saved analyses are called views. These views are saved into stories.
Stories can contain views from a table, a graph, or a dashboard page.

Stories can contain views from different projects.

Views and stories can be exported to PPT or Excel.

Harmoni automatically updates the data in story views.
In this article
1. Create a new story
You can save any view or dashboard you are interested in. To save, click on the + next to Add to new story.


Name your story - By default, your new story is named New Story_1. You can rename your story by clicking on the pencil icon next to the story name.
Name a story view - By default, all views are given a name from the across and down axis. You can change the name by selecting the pencil icon next to the view name.
2. Add views to your story
To save a new view in the same story, click on the "plus icon" next to the name of the story.


3. Add views to a new story or to a different story
As you carry on with your investigation, you can continue adding views to your story, or you can create a new story. Alternatively, you can add a view into another existing story.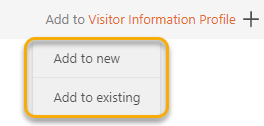 When adding to an existing story, select the story and then click on Add View.


Where to from here?