Tags:
Quick Start
Creator
Dashboards are a way for you to organize saved stories into custom layouts and designs.
You can create, view, and manage your dashboards within the My Dashboards area Learn more about navigating Harmoni. under the browse menu.
Dashboards are made up of pages. Harmoni dashboard pages are a designed collection of items including:
Saved analysis - views from a story
Text items
Image items
Embedded content

Harmoni automatically updates the data of story views.
Get Started
1. Create a new dashboard page
You can create a new dashboard page from the My Dashboards area.
browse

to My Dashboards area.
Click on the Create button.
Name your dashboard page.
Click again on the Create button. This will open a new blank canvas.
2. Customize your dashboard page
The dashboard canvas allows you to customize containers. You can move, resize, and change property settings.
Container types include Text, Image, Chart, and Embedded. Learn more about dashboard containers.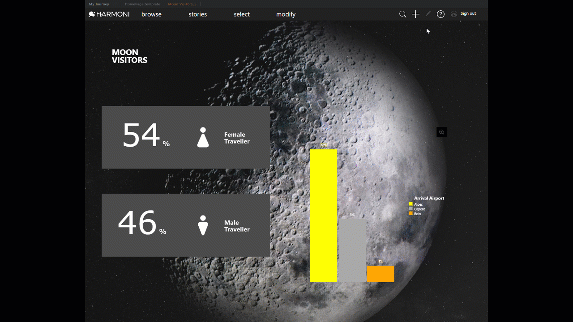 Dashboard pages can be linked together, this allows you to customize the customer journey and experience for your audience.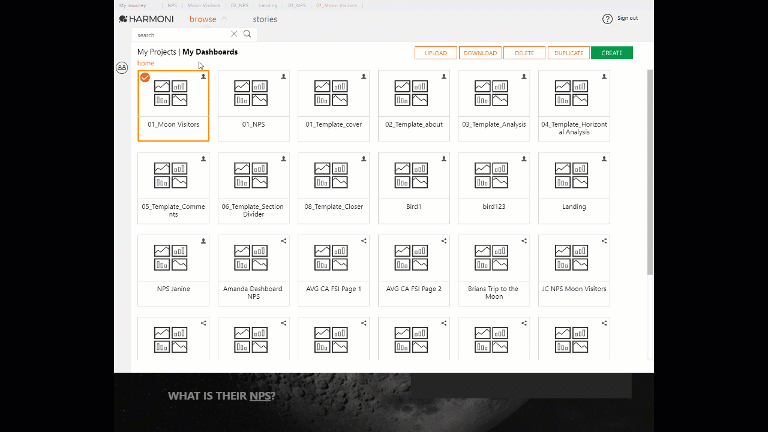 3. Share your dashboard
Once you are done building your dashboard, you can share it with your clients or colleagues.
Share the dashboard homepage url.
Save your dashboard as a view in a story.
Export to PowerPoint
Where to from here?