Tags:
Creator
Explorer
Viewer
There are a few different options and settings available when getting users onto the Harmoni platform.
In this article
1. Self-registration link
The first step is to complete your registration using a self-registration link. This link is typically associated with a group that has access to a specific site. Learn more.
If not sure how to obtain the link, contact support@infotools.com. They can help distribute a registration link for you and the people that you would like to give access to.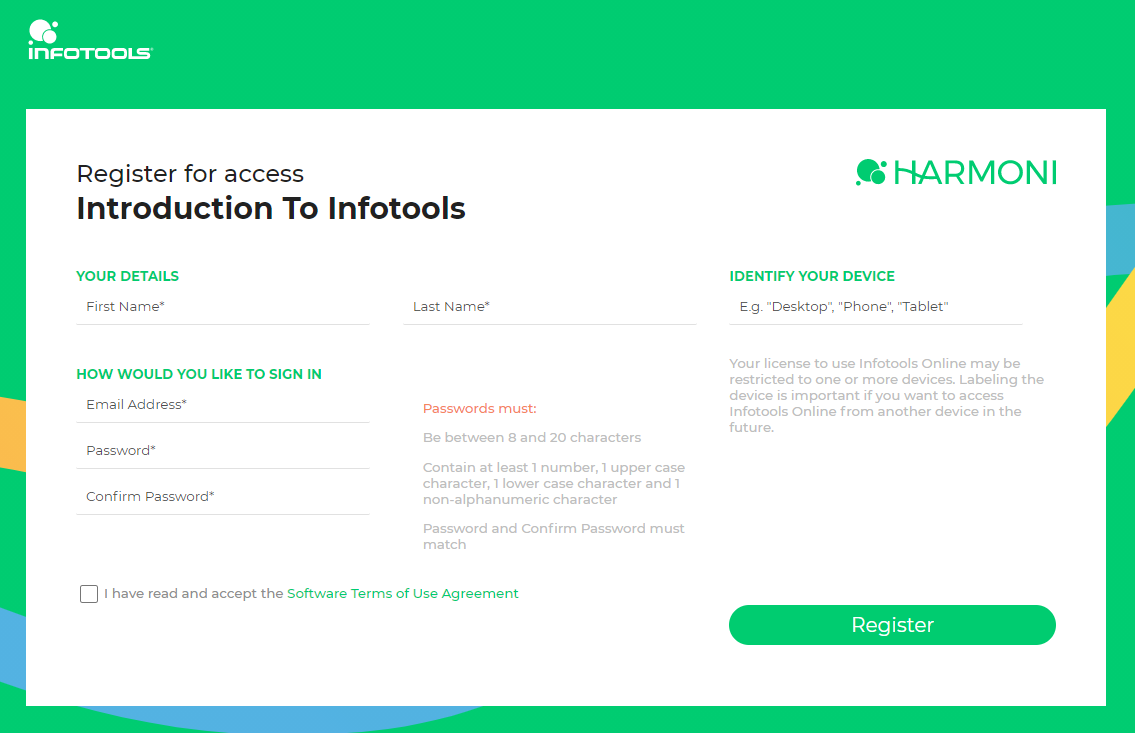 2. Licenses
Your experience in Harmoni is determined by your user license role. Harmoni allows for three distinct levels of access: Creator, Explorer, and Viewer.
All users must be allocated a license.
Infotools can automate the allocation of a license by associating it with a registration link.
Only Infotools can assign licenses manually.
3. Site access
Using a self-registration link adds members to a group that has access to a particular site.
Users need to be allocated to the sites they need access to.
Site access is allocated to groups.
Existing users who already have access to a specific site in Harmoni, need to be manually added to new groups/sites. C

ontact

support@infotools.com.
4. Publish and Sharing
Even with a license, and access to the site, users will not see the project or data within a story or dashboard until the project, stories, and dashboards have been published to them.
The Project needs to be published before anyone can see it.
The Project also needs to be shared with the users and/or groups of users that you want to see it.
A Project can be automatically published to All Users by dragging All Users into the Unlisted Access.
By default, all users have unlisted access to all Dashboards and Stories on a site, so once the project is published they can access the results.
Learn more about Publish and Sharing